OSV Engineering Simulation System
Full Mission Simulation System
OSV refers to vessels that support marine operations and maintenance such as transportation, installation, commissioning, retrofit, and demolition. Depending on the purpose and type of operations, OSV is composed of hull shapes and components. The simulator offers an efficient and structured method of building sea skills in a controlled and safe environment.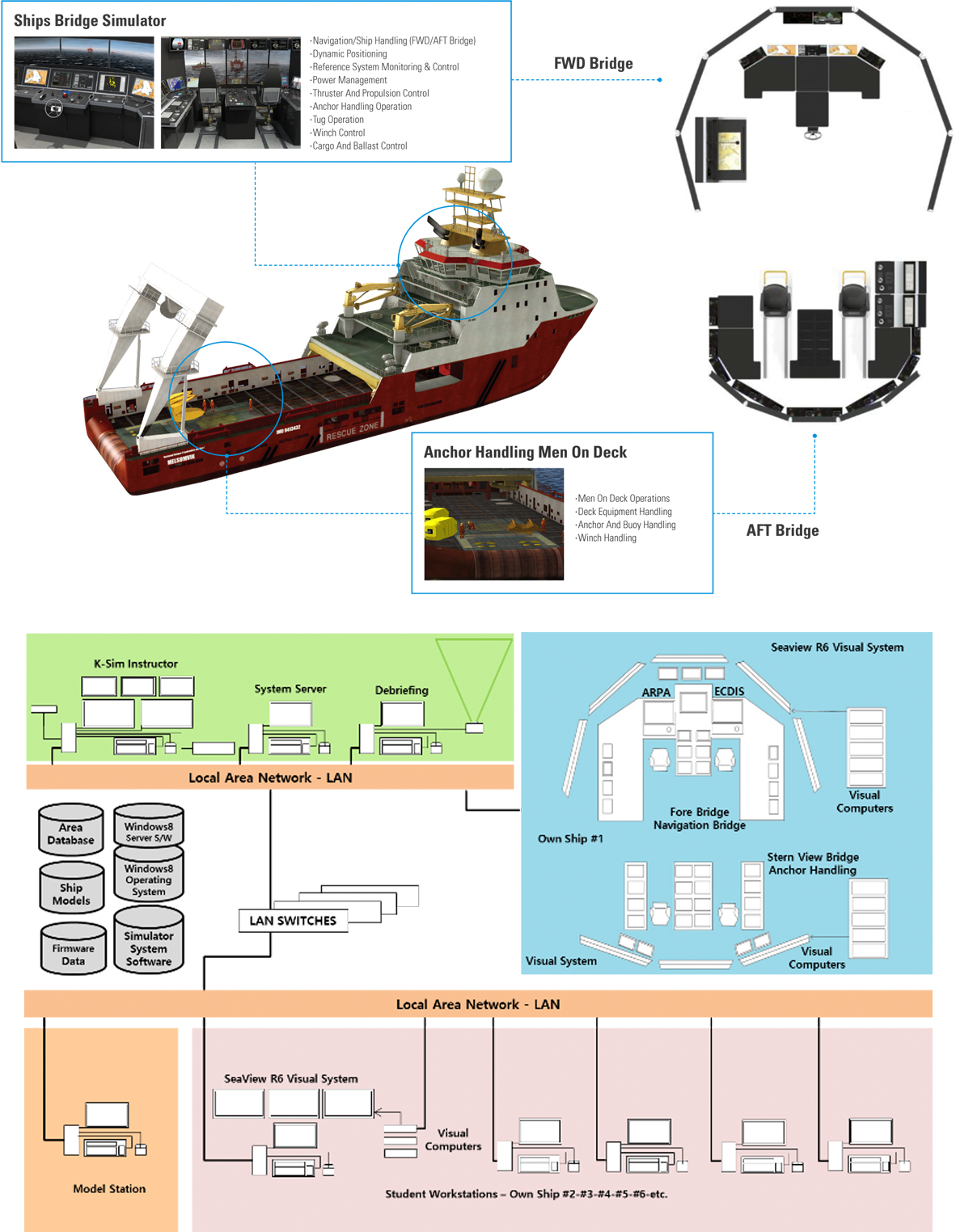 Features of Simulation System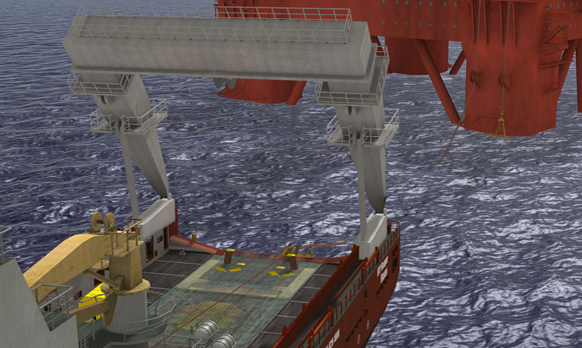 Anchor Handling
OSV simulator enables procedure development and realistic operation on critical anchor handlings
Electric and hydraulic winch operation
Operation of various anchors and deck equipment incl. shark jaw
Anchor handling with permanent chaser pendant
J-hook and grapnel operations
Deep water anchor handling – tandem operations Safe operation on deck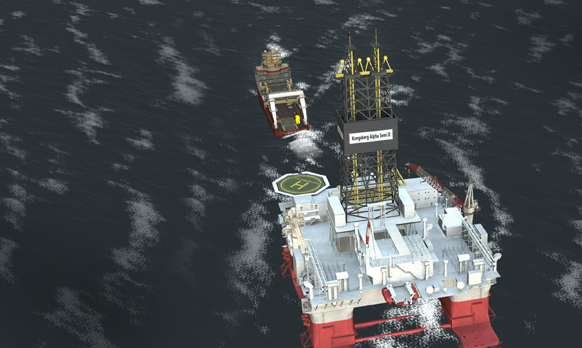 Tugging Operations
This system allows for extremely realistic tugging operations
The same 3-D physical and propulsion model of the tug is used whether the tug is under student control or operated in "Automated" or Instructor Tugging Mode.
All actions including line connections, disconnections and force orders are recorded and can be saved to a playback file.
Student and Automated multi-tug operations can be combined to produce extremely realistic ship maneuvers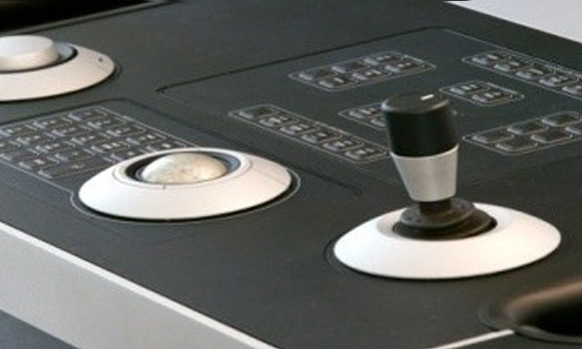 Real DP2 System
A dual redundant DP configuration in combination with optional visual system showing the surrounding scene (NI requirement from 2014)
Compliant with DNV and NI requirements for Class A DP-Simulators
Subsea intervention, offshore construction, inspection, repair & maintenance (IRM), pipelay
Engineering Capability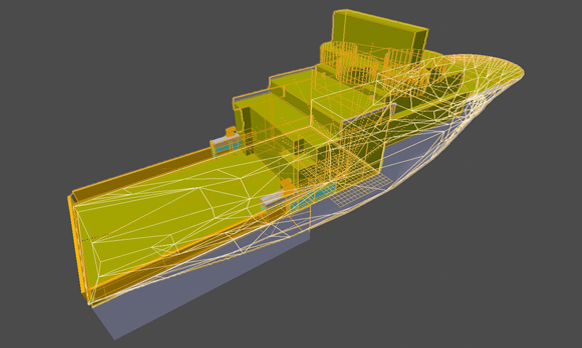 Hydrodynamic Modeling

3D hull model created from external vessel 3D CAD model

Customized ship and sub-component models designed upon request

Modeling tool available for customers creating their own ship's models

Simulation of operation and maintenance process on customized upon request

Production of ship model documentation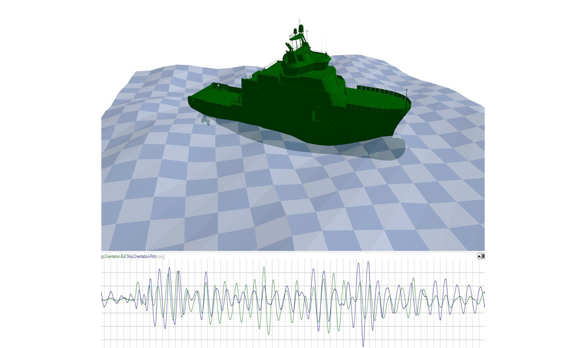 Hydrodynamic Analysis
Advanced hydrodynamic vessel models with six degrees of freedom
Stability calculated from actual volume of underwater hull
Analyzing various maneuvering properties of the ships
Excellent vessel motion accuracy
Dynamic loading, ballast control incl. possible integration to load calculators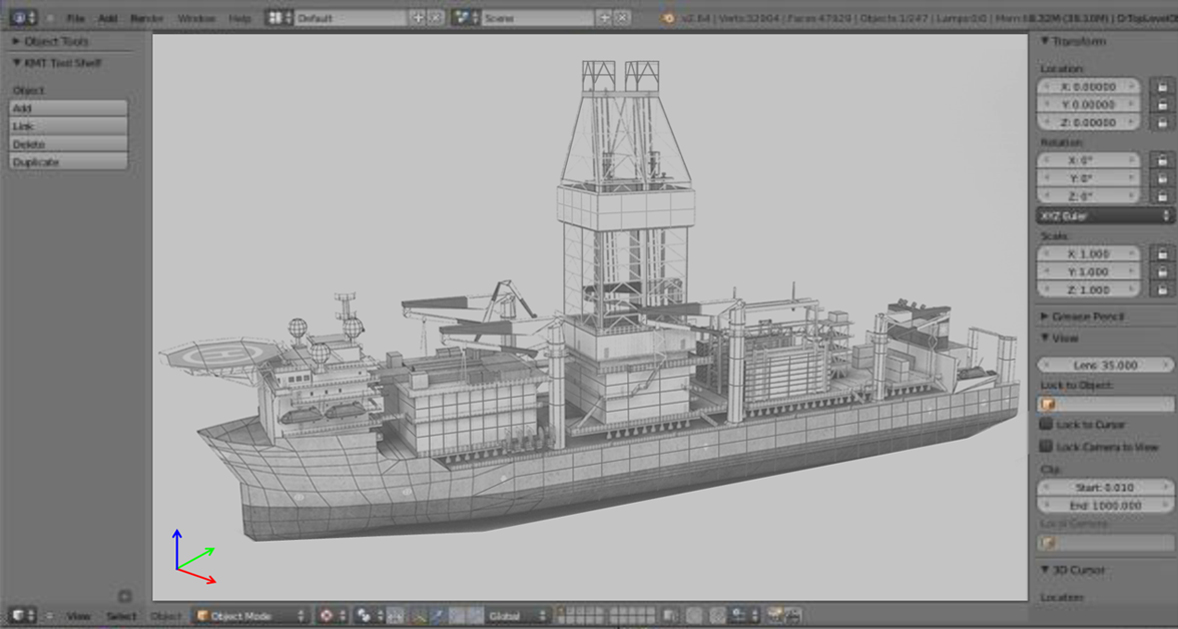 Design Modification & Verification
EGG Co., Ltd. serves engineering of design modification and verification for detailed simulation of maritime and offshore operational systems throughout the whole life cycle. Vessels are designed for model-based decision support applications and specialized for integrated operations. Engineering consulting service can cover design modification and verification and real-time decision support throughout the well-to-export process. Customers can be provided engineering consulting to support all projects and operational phases for maritime and offshore structures globally. This engineering service reduces the risk of changes causing production upsets that could decrease design time.
Evaluation & Assessment
Multifunctional stations are assisted by large screens in instructor room. Enhanced real-time evaluation and assessment tool gives excellent overview and information for customers. Integrated simulation system secures correct marine and offshore operation in good and harsh weather. Evaluation and assessment report will be transferred for design support and optimization of maritime and offshore productions through data interface between real vessel and virtual simulation systems.
OSV Engineering Simulation Systems (Track Record)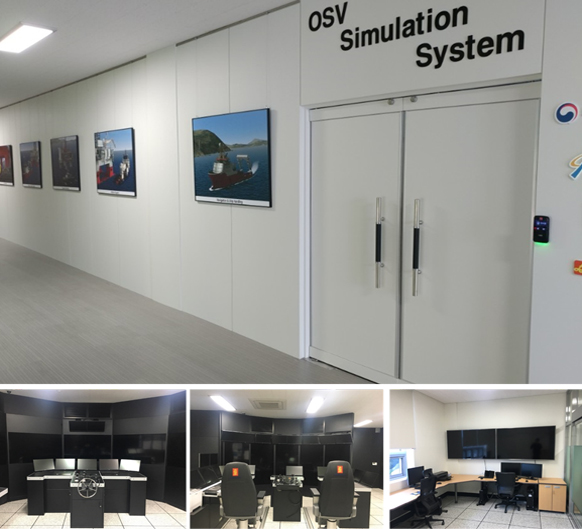 EGG Co., Ltd. fully completed installation of simulation systems with product and site certifications requested by Busan Techno Park (Offshore Simulation Center, Tong-Myung University) to support site certifications as below simulation systems;
OSV Simulation System
DP Simulation System
Mooring Simulation System